Corneal Laceration & Iris Prolapse In A Puppy
A large corneal laceration and iris prolapes was seen in the right eye of a 10-week old puppy. The injury had occured 8 days earlier when the puppy got scratched by the owner's cat. The puppy's eye was surprisingly quiet, but the prolapse was very fragile and was likely to start leaking causing collapse of the eye. The injury was also interfering with the natural blink of the eye due to its mere size, risking exposure keratitis.This case would have benefitted from earlier surgical repair, but has done well despite this.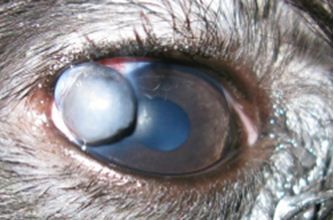 Anterior and lateral view of right eye before repair.

Eye 10 days after surgical repair and conjunctival grafting.
"Stig" 1 month after repair. The right eye is now comfortable.
Eye Injuries In Puppies
Eye injuries such as this quite common in young puppies and usually happens within the first few weeks of arriving at their new homes, when there is a pre-existing cat. The puppy is often curious about the cat and being cat-sized they are more prone to getting scratched in the eyes. Additionally they have no menace response until 12-16 weeks old as this is a learnt response and takes some time to develop. The puppy is therefore less likely to blink and protect the eye.
All of our ophthalmology cases are seen by Ida Gilbert BVSc CertVOphthal MRCVS. Ida is is very happy to give advice over the phone or by e-mail (photographs are very helpful if you want to discuss a specific case).