Keratomycosis in an 8 year old Border Collie dog
caused by Hormographiella aspergillata, the asexual reproductive form of the basidomycete Coprinopsis cinerea
---
Case History
11/11/2013

Megan an 8 year old Border Collie was presented to a colleague with a history of having a sore left eye for a week. Blepharospasm, moderate episcleral congestion and a 3mm x 3mm ulcer were found. She was given Fucithalmic, Metacam and Lubrithal.
---
18/11/2013
The eye had not improved and Megan was referred to us. The left eye was painful, not responsive to antibiotics and although the cornea looked like it had a soft malacic melting ulcer, the cornea was firm with a plaque-like white infiltrate centrally. Neovascularisation was approaching from the ventromedial limbus.
A corneal scrape was performed to remove as much of the plaque as possible and obtain samples for cytology. Filamentous fungi were found in-house (photographed down microscope) and fungal keratitis became the working diagnosis. Interestingly the sample sent for cytology and c/s to a commercial lab did not support fungal keratitis. Medication was continued with Ronaxan, Exocin, Metacam, Tramadol, atropine and clotrimazole cream (Canestan).
Filamentous fungi were found in-house (photographed down microscope)
---
20/11/13

The keratitis was getting worse and despite the owners limited funds, surgery was scheduled.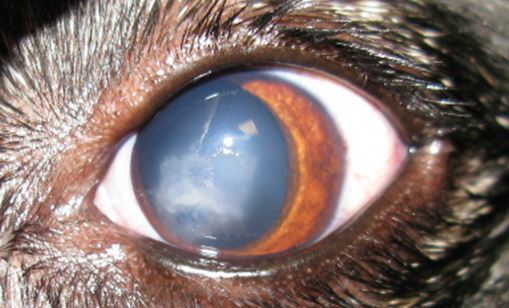 ---
26/11/13
Pre operatively the plaque is larger, denser and not improving on topical clotrimazole. A mid-stromal lamellar keratectomy was performed for therapeutic and diagnostic purposes and a conjunctival graft placed over the area to bring instant blood supply.
The left eye at admission for surgery
---
02/12/13
The graft is red, but comfortable at this stage. Sutures can be seen at the lateral canthus, where a temporary canthotomy was done for improved exposure. Clotrimazole cream was stopped and 0.2% antiseptic iodine drops commenced (1:50 solution).
]
The left eye a week post operatively
---
03/02/14
I
The left eye is fully healed and comfortable. The graft is semi-transparent and allowing reasonable vision.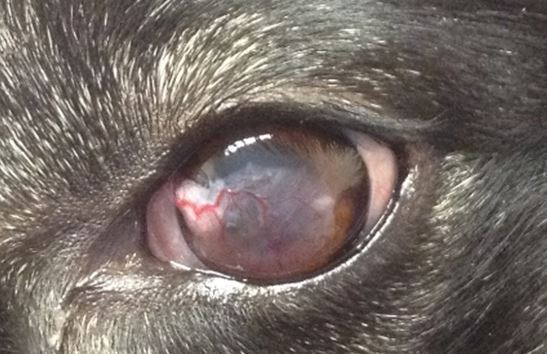 Close up of the left eye showing that the pupil is clearly visible through the graft
---
Fungal Keratitis
Fungal keratitis is a diagnostic and therapeutic challenge for the ophthalmologist and cases are often inherently difficult to treat. The condition is potentially blinding and may result in the loss of an eye. Fungal cases are more common in tropical countries, but should be on the list of differentials also here in the UK and there seems to be a peak in the autumn. Fungi are opportunistic saphrophytes that require damage to the corneal epithelium or decreased local immunity to establish infection. Eyes that have had trauma or prolonged steroid and or antibiotic therapy are considered at increased risk, but beware; some cases are mixed fungal and bacterial infections, so a broad spectrum antibiotic is a good idea together with an anti-fungal agent. This dog had not been on prolonged antibiotics, but belongs to a tree surgeon and it most likely that a trauma was the initiating factor. This is most common for filamentous fungi (whilst yeast is more common with pre-disposing disorders such as reduced tear production, diabetes or immunosuppression).
Diagnosis of Fungal Keratitis in small animals
Confirming the suspected diagnosis is often frustrating, as results can be inconclusive and slow, but cytology is the first port of call and if suitable, keratectomy and culture. The Bristol Mycology Lab was very helpful in this case. They confirmed large amounts of filamentous fungi on microscopy of the keratectomy sample and a panfungal PCR was positive. Culture and nuclear repeat region sequencing suggested that this fungus was Coprinopsis cinerea. Culture takes from 2 days up to 4 weeks and empirical treatment will therefore need to be commenced in the interim. Ideally, fungal sensitivity testing should be performed in cases of fungal keratitis, but results normally take several weeks and thus reducing the usefulness of this diagnostic test.
Treatment Options for Fungal Keratitis
The challenge lies therefore not only in the diagnosis, but also in choosing the most appropriate therapy. In human cases an initial dual therapy approach is often used to avoid the risk of resistance and cover filamentous fungi such as Aspergillus and Fusarium species with Econazole 1% and Candida and other yeasts with Amphotericin B 0.1-0.3%. Therapy is initiated hourly for 24-48 hours with fortified antifungal drops. In some cases oral, intravenous, subconjunctival, intracameral and even intrastromal routes are used. In resistant cases conjunctival flaps, lamellar or penetrating keratoplasty may be needed.
Multiple antifungal agents exist, but few are available as eye drops and need to be compounded (agents in blue are available from Moorefields Pharmaceuticals):
· Polyenes: Amphotericin B, Natamycin
· Azoles: ketoconazole, miconazole, fluconazole, itraconazole, econazole, clotrimazole
· Echinocandins: Micafungin, Caspofungin, Anidulafungin
· New generation triazoles: Voriconazole, Posaconazole, Ravuconazole
· Fluorinated pyrimidines: Flucytosine
· Antiseptics: Chlorhexidine 0.2%, Povidone iodine 5%
Hormographiella species are considered sensitive to some azoles, especially miconazole and sensitive to amphotericin B, but resistant to fluconazole, itraconazole or flucytosine. If an earlier diagnosis had been achieved, it is possible that surgery could have been avoided, but as indicated earlier, this is technically difficult to achieve. This case was treated with limited funds available, a mid-stromal keratectomy and a large conjunctival graft, but despite this had a very successful outcome with return of useful vision and full comfort.
The basidomycete Coprinopsis cinerea – an edible mushroom, commonly known as the Gray Shag; the anamorph is H.aspergillata
If you think you have a suitable case that you would like to refer, or if you would like any more information, please contact Ida Gilbert BVSc CertVOphthal MRCVS on 01793 528341 or e-mail: Eastcott Veterinary Referrals