By Tim Charlesworth
We have been conducting ongoing research into Pectus Excavatum in kittens since 2013. This is a congenital thoracic wall deformity in which the caudal sternebrae is dorsally deviated towards the vertebral column. This is associated with marked exercise intolerance, dyspnoea and a wide range of other clinical signs.
We have just had our latest paper accepted for publication in the Journal of Feline Medicine and Surgery (JFMS). In this paper we looked at a prospective cohort of 10, 10-15 week old kittens with moderate and severe pectus excavatum (PE). Each of the kittens was examined, CT scanned and then a decision was made as to whether or not they should go to surgery.7/10 kittens were taken to surgery. One kitten sadly died several weeks after surgery but the remaining 6 kittens are all doing very well indeed at a median follow up of 18 months. This is an excellent result given that these were the most severely affected kittens who normally would be expected to develop significant (and often fatal) secondary changes by one year of age.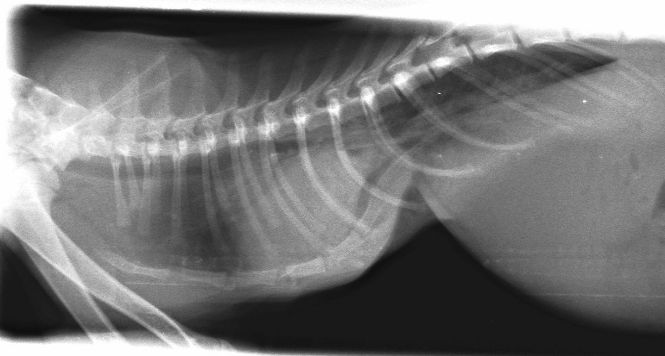 Lateral chest x-ray showing severe pectus deformity - note the dorsal deviation of the caudal sternebrae which is diagnostic for pectus excavatum
We also found CT to be very useful in helping to plan the surgery and we have now used the information gained to modify our surgical technique to decrease the intraoperative risk of cardiovascular injury in these patients.
Another interesting finding was that CT allowed us to appreciate that not all deformities are equal in terms of the severity of clinical signs that they caused. Cats with midline deformities had much more severe clinical signs than those cats whose caudal sternebrae were lateralised. This is most likely due to direct pressure from the sternum on the heart, preventing increases in diastolic volume when exercising and so we suspect that there is a significant cardiac component to exercise tolerance in cats with PE which may be highly significant.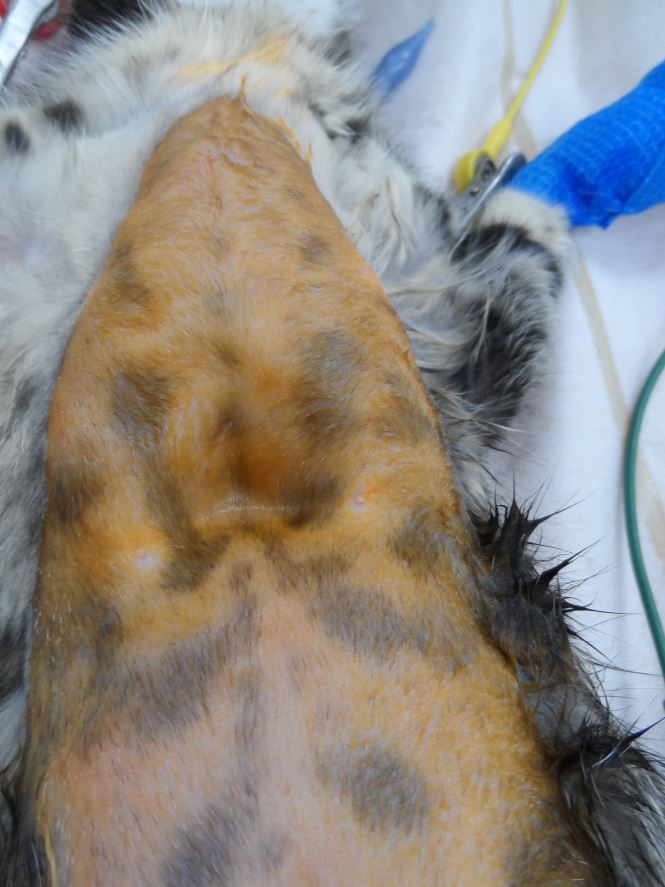 Kitten with severe pectus excavatum being prepared for surgery. Kitten is in dorsal recumbency and the prominent "dip" represents the area of greatest deformity
CT 3D reconstruction of the thoracic skeleton of a kitten with Pectus Excavatum
We would like to thank all of our referring vets and the clients who agreed to help us with this study which simply would not have been possible without their help. We are continuing to study this condition and are happy to help or advise with any cases that you may see.
Previous Pectus Excavatum Blog...
Harry one of Tim's cases made the Manchester News...
Teacup another Pectus kitten that Tim treated. His owner sent us photos marking his progress after surgery...
---
If you think you have any small animal soft tissue case that you would like to refer or discuss, please contact Tim on 01793 528341 or e-mail: Eastcott Veterinary Referrals
How to Refer a Case to Eastcott Veterinary Referrals