Canine Lung Tumours
Canine lung tumours are uncommon but are usually seen in older patients typically 9-12 years of age. They are usually malignant with the vast majority (97%) being carcinomas. We do very occasionally see benign masses (e.g. pulmonary lipoma) but these are considered very rare.
Lung tumours can cause a variety of clinical signs that are caused by direct compression of the associated airway and interference with normal respiratory function. These signs include increased respiratory effort, exercise intolerance, and cough. Other general /non-specific signs can include weight loss, anorexia, lethargy and pyrexia. Occasional cases will present with a pleural effusion.
Any older dog that presents with a chronic cough that either does not respond or partially responds to antibiotics should alert the clinician to the possibility of lung neoplasia.
Canine Lung Tumour Diagnostics
Conventional three-view radiography (i.e. left and right lateral and DV/VD projections) is usually enough to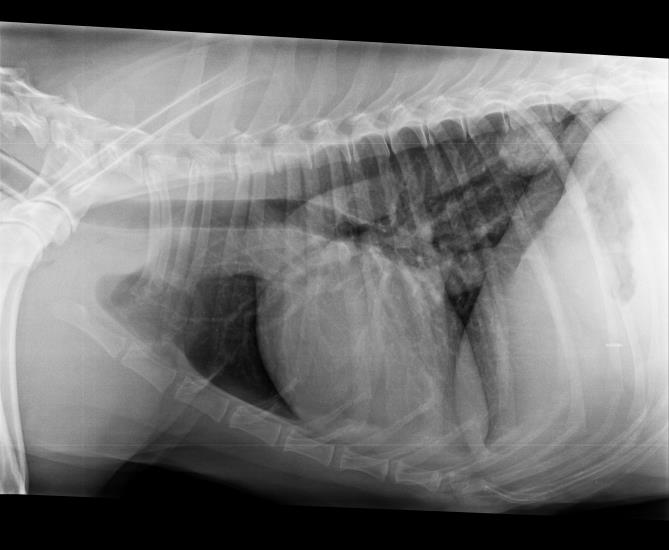 detect a pulmonary mass. Clinicians should pay particular attention to assessing radiographs for potential masses in areas of overlapping soft tissue densities i.e. overlying the heart and diaphragm as smaller lesions can be missed. Larger, peripheral masses can be further assessed with ultrasound and guided fine-needle aspirates can be taken if desired but this is not without risk of creating pneumothorax or intrapulmonary haemorrhage/haemoptysis.
Figure 1: Lateral thoracic radiograph showing typical appearance of a peripheral pulmonary mass within the caudodorsal thorax
Computed Tomography (CT)
CT is invaluable for further assessment of suspected lung tumours. Not only is CT much more sensitive for detecting other smaller masses (see figs 1-3), CT can also detect signs of regional lymph node enlargements that may indicate metastases to this site.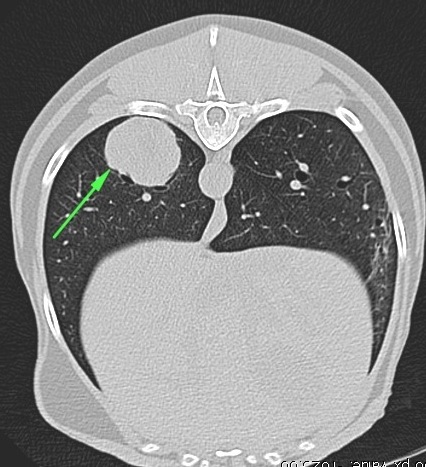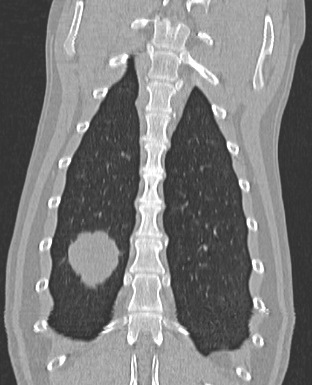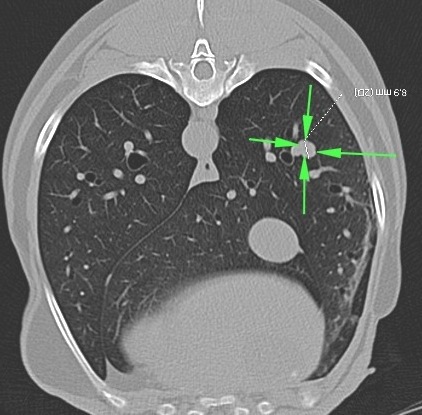 Fig 1: Lateral thoracic radiograph showing typical appearance of a peripheral pulmonary mass within the caudodorsal thorax.
Fig 2a and 2b: Transverse and Coronal CT reconstructions of the same mass shown in figure 1.
Fig 3: Same case as figures 1-2: A second small (9mm) mass adjacent to a blood vessel is seen within a separate lung lobe. This nodule was not visible on screening radiographs. Other grey "spots" are branching blood vessels
Treatment of Canine Lung Tumours
The treatment of choice for primary pulmonary carcinoma is surgical lung lobectomy. Although some very small masses can be resected thoracoscopically, the usual approach is via an open, intercostal incision. The affected lung lobe is removed by either dissection and ligation of the hilus or by use of surgical stapling equipment (fig 4). Although intercostal thoracotomy is an invasive surgery it is usually very well tolerated by veterinary patients with the majority of cases discharged from our hospital within 24-48 hours of surgery.
Canine Lung Tumours - Prognosis
The prognosis for lung tumours in dogs is very variable and depends on the histological diagnosis and the stage of the tumour. Dogs with smaller solitary masses that have not spread can have an excellent prognosis following lung lobectomy with reported median survival times >18 months. By contrast, however, larger lung masses that have metastasized have a very poor long term prognosis with median survival times of approximately 2 months.
Latest advances in the diagnosis and treatment of Canine Lung Tumours
There is a clear and significant difference in prognosis between cases that have and have not metastasised.
Routine preoperative CT scanning is now recommended and although this will reveal metastases in a number of cases that were deemed "clear" by radiography alone, the cases that are deemed clear of metastases by CT will often do better than the quoted survival times. This is because these survival times were based on radiographic and intra-operative assessment that simply was not as sensitive as modern CT evaluation. In this way, better case selection will eventually lead to a better average survival time following surgery with many cases (especially smaller, peripheral masses with no metastases) being considered cured by surgical lobectomy.
Fig 4: Use of a surgical stapler to remove a pulmonary histiocytic sarcoma in a dog.
Lung Tumours in dogs - Is there a role for Thoracoscopy?
Although we would not normally recommend thoracoscopy for lung lobe resection, thoracoscopy can be used to biopsy possible lung lesions and also to biopsy the local lymph nodes. The presence or absence of nodal metastases is highly prognostic and so knowing what is going on inside the regional lymph nodes before committing to surgery remains the "Holy Grail" of lung tumour treatment. Many carcinomas are associated with a significant inflammatory component (which is often why symptoms can improve with anti-infammatories and antibiotics) which can cause mild-moderate enlargement of the hilar lymph node without metastases. Conversely, a normal sized lymph node does not entirely exclude the presence of microscopic metastases. It is hoped that using a combination of advanced imaging techniques and thorough preoperative assessment, including lymph node biopsy when indicated, will lead to better case selection and improved patient outcomes.
Lung Tumours in dogs - Metastectomy
Some patients will present with solitary metastases from a primary mass elsewhere in the body. If that primary mass has been removed then surgical metastectomy can be considered although there are strict criteria used to assess such cases. These include:
The primary tumour must be in remission for >300 days
Only 1-2 visible nodules within the thorax
No other evidence of metastases elsewhere in the body
A long doubling time of the metastatic lesions (>30 days)
Canine Lung Tumours - Summary

Older dogs with a chronic cough should be radiographically assessed for significant pulmonary disease including neoplasia even if there is a partial response to anti-inflammatories or antibiotics
Smaller solitary lung masses are often very amenable to surgical resection which can result in very good survival times
Larger lung masses with metastases are sadly associated with a very poor prognosis
A thorough preoperative assessment is recommended to determine the likely prognosis for any patient before surgery is undertaken.