Canine Acanthomatous Ameloblastoma (CAA)
CAA is a benign tumour, but shows aggressive local behaviour and frequent invasion into bone of the underlying mandible or maxilla. The rostral mandible is the most common site and they do not metastasize.
Mac is an entire, male English Springer Spaniel 7 years old. He developed an oral mass affecting his right mandible in July 2017. The referring veterinarian performed an incisional biopsy which confirmed the presence of a 'Canine Acanthomatous Ameloblastoma' (CAA).
Mac was referred to the dentistry and oral surgery service at Eastcott Referrals. A high resolution computed tomography scan was performed of Mac's jaw with a GE Lightspeed Four Slice CT Scanner in order to localise the tumour and define his margins. A 3D model was printed for planning of the surgery and preoperative plate contouring.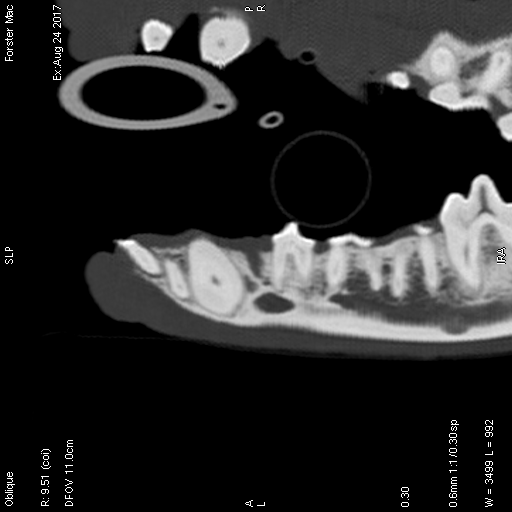 Fig. 1: Sagittal view of a CT scan showing the presence of an invasive mass at the level of the right first mandibular premolar in a dog.
To achieve clean margins around the mass a rostral segmental mandibulectomy was performed from rostral to the right mandibular canine to caudal to the right mandibular second premolar.
After 4 weeks Mac was presented for jaw reconstruction. At this point, jaw function was good, but both mandibles were unstable and there was evidence of impaired function when picking up food. A ventral approach was made to both mandibles. A pre-contoured 20 hole Synthes 2.4m reconstruction plate was fixed to the mandible.
Fig. 2: Intraoperative picture showing a pre-contoured 20 hole Synthes 2.4m reconstruction plate fixed to the mandible. Note the defect caused by the resection of an acanthomatous ameloblastoma.
Mac's occlusion was evaluated at this point and it was normal. A 2.7 cm section of Mastergraft compression resistant matrix, impregnated with BMP (Inductos - Medtronic) at 0.5mg/ml was placed in the defect and a tight soft tissue capsule was created to stabilise the graft.
Two months after the reconstruction a follow up CT-scan was performed which demonstrated good new bone formation and a complete bridge between the ends of the bone resection. There was no evidence of screw loosening.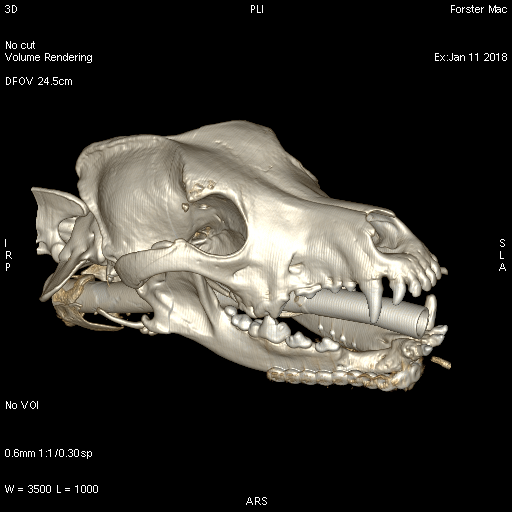 Fig. 3: Transversal view of a CT scan showing new bone formation after mandibular reconstruction.
Fig. 4: Right lateral view of a three-dimensional reconstruction of a CT scan of the skull of a dog showing new bone formation and a complete bridge between the ends of the bone resection after a rostral segmental mandibulectomy.
Significant bone defects after segmental mandibulectomy allow mandibular drift towards the side of the resection resulting in malocclusion, difficulty in eating and temporomandibular joint pain. Though segmental mandibulectomy without reconstruction produces acceptable and functional results in most cases, there are clear benefits to jaw reconstruction where this is possible.
by Ingrid Tundo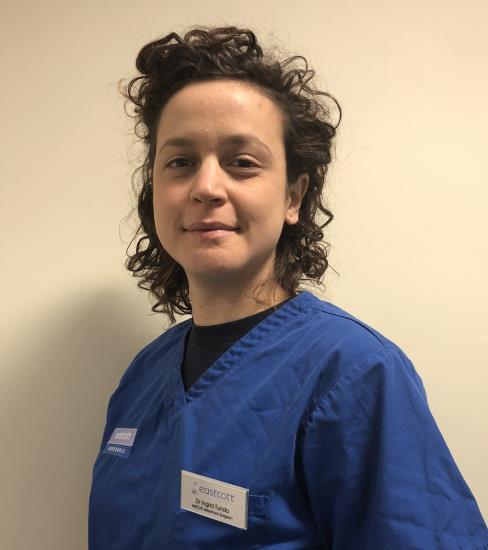 ---
A 3D printer was used to print a 3D model for the planning of this surgery and preoperative plate contouring. We find 3D printing for surgery pre-planning increasingly useful and have recently invested in our own 3D printer.

---