Soft Tissue Referral Service takes advantage of Diagnostic Imaging for locating plant awns/grass seeds in dogs
Safe and minimally invasive treatment for superficially located plant awns in dogs
Subcutaneous or subfascial abscesses or granulomas due to migrating vegetal foreign bodies are common in dogs and surgical removal of the grass seed may be challenging. Non-image-guided surgical exploration can be time-consuming, traumatic, challenging and sometimes unsuccessful even when a foreign body is known to be present. The inability to localise the foreign body for retrieval and the partial retrieval of the awn are the most common complications. The possible inability to localise the foreign body during surgery could lead to abscess recurrence.
The use of ultrasound for the detection of such foreign bodies is well known and their ultrasonographic features have been widely discussed. Grass awns 'appear as linear spindle-shaped hyperechoic structures of variable length, with two or three parallel reflecting interfaces corresponding to the seeds and seed covers. Often an anechoic halo due to the accumulation of fluid is present around the foreign body, which sometimes improves interface visualisation'.
Four dogs referred for recurrent abscess in the lumbar region have been seen at the hospital between October 2018 to January 2019. A migrating vegetal foreign body was identified in each dog with the use of ultrasonography. All retrieval procedures were performed in the sonography suite with the patient under general anaesthesia. The region of interest was aseptically prepared and a small stab incision with a #11 scalpel was performed approx. 2 cm cranial to the foreign body, with the plant awn imaged in sagittal section. A Hartmann forceps was inserted through the skin incision and directed toward the tip of the foreign body under ultrasonographic guidance. The forceps were opened and the foreign body grasped and withdrawn. The shape of the foreign body was compared with the sonographic images and the site of the abscess was re-scanned to determine potential residual foreign bodies or fragments. In all dogs, the abscess was flushed with saline and oral antibiotic therapy was administered for 7–10 days. The duration of the procedure ranged from 20 to 40 minutes. Suture of the skin incision was not necessary.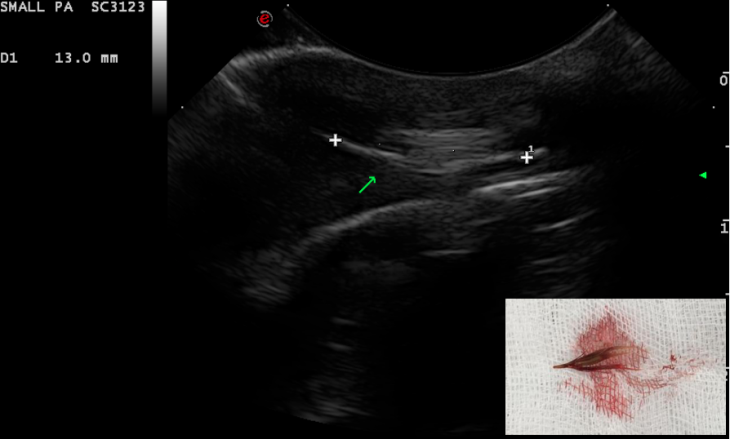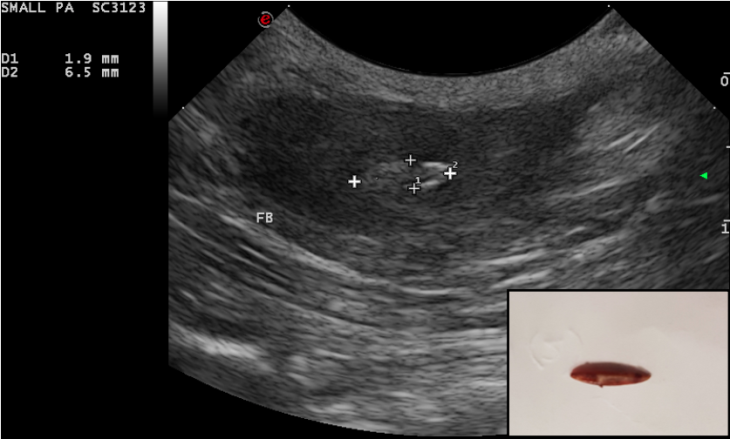 Read blog on CT Visualisation of Deep Vegetal Foreign Bodies
by Domenico Sainato DMV, MRCVS, MSc (Small Animal Diagnostic Imaging)
To refer a case for investigation, please do so via the Soft Tissue Referral Service.