A Confusing and Unusual Soft Tissue Case
Delilah is a 7-month-old spaniel who was generally fit and well but had a recent history of worsening perivulval irritation. Although initial vulval examination had been unremarkable, a smooth, rounded structure, had recently been noted protruding from the vulva (Fig 1 & 2).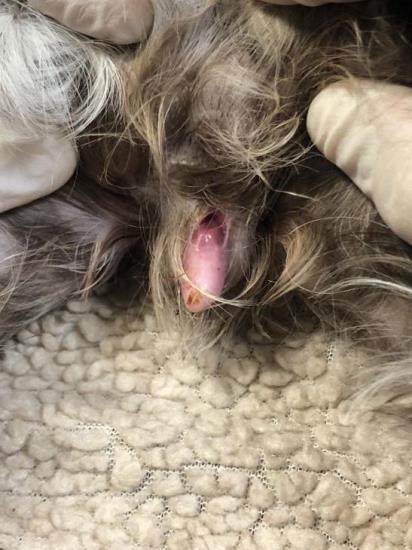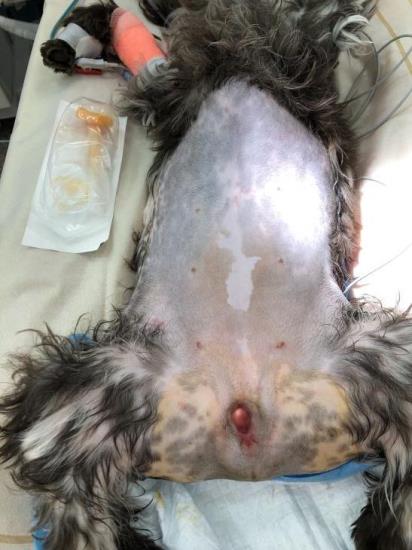 Although this structure was clearly abnormal, it was not possible to determine what it was from external examination alone. The two main differential diagnoses were either clitoral hypertrophy or a pseudophallus secondary to an intersex condition. These two conditions can be distinguished by determining the site of the urethral orifice. The urethra should open separate from the clitoris and so clitoral hypertrophy would be considered likely if these two structures were separate. If, however, the urethral orifice was associated with the structure then a pseudophallus condition would be considered more likely. In Delilah's case, the urethral orifice was sited at the dorsal aspect of the structure and so a diagnosis of intersex was made. An abdominal ultrasound examination was performed and two, intra-abdominal gonads were identified.

Delilah was then anaesthetised and taken to surgery. The urethra was identified and catheterised (Fig 3) and an episiotomy performed to give safe access to the urethral orifice. The pseudophallus was then gradually dissected free from its attachments (Fig 4) and a mucosal flap containing the urethral orifice was raised and separated from the phallus using a harmonic scalpel (Fig 5). The phallus was then amputated and the mucosal flap and urethra were then sutured into the mucosal defect left from phallus removal (Fig 6).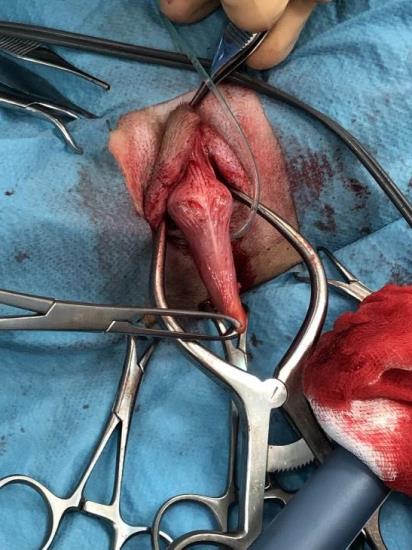 The episiotomy was then closed routinely and laparoscopic gonadectomy performed. Both gonads were grossly consistent with testes (Fig 7) and so Sally was suspected to be a genetic male.

True hermaphroditism would require both testicular and ovarian tissue to be present in the same individual and this was clearly not the case here. "Pseudohermaphroditism" is also termed "Intersex" and is caused by intrauterine failure of the SRY gene to achieve full male differentiation. A "Male Intersex" is a dog that has male gonads (testes) but external genitalia resembling those of females. Although full karyotype analysis would be required to be sure of Delilah's genetics, histopathology of the gonads confirmed that they were testes and so a clinical diagnosis of "Male Intersex" is appropriate for this case.

Delilah has fully recovered from her surgery and is currently doing well. The surgery has resolved the vulval irritation and Delilah now looks like a "normal female" although we have now established that she is actually male! Delilah is still called Delilah, however, and she really doesn't mind what she is as long as she gets to run over the fields chasing pheasants!