By Eastcott Referrals Orthopaedic Surgeon Fabio Frazzica
A 6-year-old female domestic short-haired cat was referred to us with a 4/5 left pelvic limb lameness associated with a chronic instability of the tarsus. This had been treated with a splinted bandage for approximately 1 month prior to referral. Unfortunately, the cat remained lame on the affected limb despite conservative treatment and surgical intervention was required.
The radiographs below show a caudocranial "stressed" view of the left tarsus.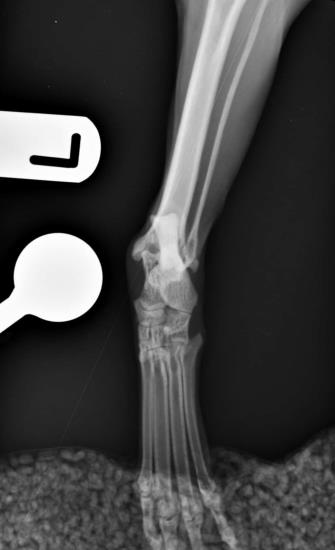 A gap between the distal tibia and the talus can be noted and this is a result of medial collateral ligament failure which had led to instability of the tarsus. This injury is often traumatic in nature and several treatment options are available, including permanent joint fusion (pantarsal arthrodesis).
A decision to perform a pantarsal arthrodesis was made. This aims at eliminating any instability and associated pain.
The procedure is carried out using a specifically designed bone plate contoured to the shape and angle of the cat's tarsus and accepting screws of different sizes to match the underlying bone thickness.
The radiograph below shows a postoperative view of this patient's left tarsus after having been stabilised with a plate.
He made a good recovery and was able to start using the operated limb within a few days from surgery.
Full recovery can take several months and this depends on the rate of bone healing and other factors. Fusion of the joint was documented radiographically 2 months postoperatively as seen in the radiographs below.
This procedure was performed by our Orthopaedic Surgeon Fabio Frazzica and our team of Orthopaedic Nurses and Veterinary interns.