By Eastcott Referrals Orthopaedic Surgeon Fabio Frazzica
A 1-year-old female Whippet presented with a distal diaphyseal, simple, transverse, closed radius and ulna fracture.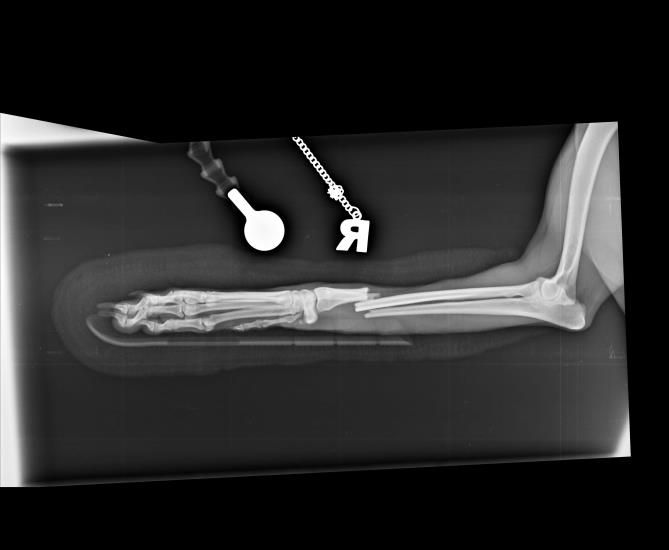 These fractures are common in dogs that have thin bones in relation to their overall body size and can result from relatively minor trauma.
Often, only the radial fracture is stabilised, as this provides enough support for the ulna to heal by secondary bone healing. However, the blood supply to the distal radius and ulna is somewhat scarce due to the small amount of soft tissue surrounding the bone in Whippets and other small breeds. This can result in prolonged healing times. For this reason, plating of both bones was carried out. This gives maximum support and allows for the slow healing process to take place.
The radiograph below shows the repair with two locking compression plates.
The patient presented 10 weeks post-operatively for routine radiographs which demonstrated excellent osseous union and no implant-associated complications.
No lameness nor discomfort were detected, and the patient has now returned to her normal activity levels.
This procedure was performed by our Orthopaedic Surgeon Fabio Frazzica with the assistance our team of nurses and interns.