Canine unicompartmental elbow replacement
Bill gets a new spring in his step after partial elbow replacement
Eastcott Referrals Veterinary Physiotherapist, Alys Cooper explains how cutting- edge surgery and rehabilitation helped her own dog Bill find his love of walks again.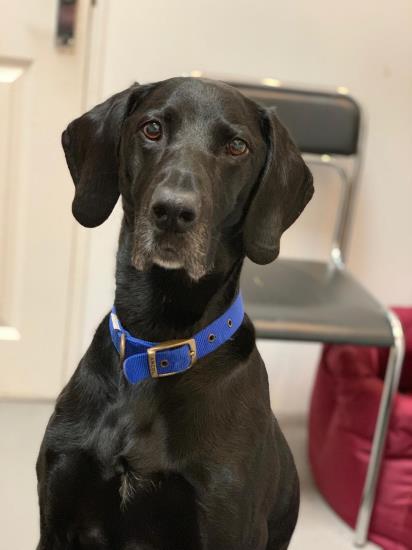 Bill is my very active 10-year old Labrador Great Dane cross whom I rehomed in October 2018.  I also happen to be the Veterinary Physiotherapist at Eastcott, and I noticed that despite wanting endless exercise, games and affection, Bill didn't seem comfortable on his front legs, and would often limp after just 20 minute walks and would be sore when getting up after rest. Previous treatment with non-steroidal anti-inflammatory drugs (NSAIDs) to target pain had helped, but I was keen to get a thorough diagnosis and plan in place to help Bill enjoy his retirement years.
Bill's referral
In March 2019 Bill was referred to Eastcott Referrals, to see RCVS recognised specialist in Orthopaedics, Duncan Barnes for an investigation into the cause of his lameness and reduced ability to exercise. This included a thorough case history including Bill's background, current exercises levels and medication, and in what situations Bill seemed to struggle the most. His movement was assessed in walk, trot and small circles in both directions, before performing a full examination. After discussing the findings with Duncan, which suggested problems with his elbows, it was agreed to perform a CT scan to allow a full diagnosis of the problem.
The diagnosis
The CT scan revealed advanced 'elbow dysplasia' (in which the elbow joint develops abnormally). Unfortunately, this is the most common cause of chronic forelimb lameness in dogs, with all affected dogs having varying levels of osteoarthritis within the joint.
The CT images were able to also show Bill also had 'medial compartment disease', in which diffuse cartilage wear results in bone rubbing against bone, causing pain and more severe osteoarthritis. It was decided that firstly, Bill's treatment plan would include more pain relief medication alongside a long-acting steroid injection into the joint to help reduce inflammation.
'CUE' surgery
Unfortunately, the steroid injection only helped in the short term, and I felt that Bill's quality of life was significantly impaired by his right elbow dysplasia.  It was therefore decided that Bill should undergo elbow surgery, using a technique called a 'CUE' or canine unicompartmental elbow replacement. This surgery involves opening up the elbow joint in order to partially resurface it, using a metallic implant in the humerus and a polyethylene implant in the ulna.
This provides a low friction articular surface, with the aim of reducing bone on bone contact within the joint.  Compared to a total elbow replacement, CUE offers a better and faster recovery with a lower risk of complications. The X-rays shown were taken immediately following surgery and show the metallic parts of the implants positioned nicely within the right elbow joint. The plastic portion is not seen on X-rays.
Aftercare and rehab
Bill's surgery was major, and so his aftercare, physiotherapy and rehabilitation were just as important as his operation. He stayed in hospital for 48 hours following his surgery, to allow the surgical team to closely control any pain and for him to have 3 physiotherapy sessions a day with me. This included:
Pulsed electromagnetic therapy and ice packs around the joint to decrease acute swelling and local pain
Laser therapy to promote wound healing
Massage to relax the surrounding soft tissue and improve circulation
Gentle range of motion exercises to prevent stiffness within the joints
Short lead walks little and often for toilet breaks, with sling support under the forelimbs
I then took Bill home, and was able to carry out short physiotherapy sessions 3 times a day, for a 6-week period. Following skin staple removal 14 days post-op, he started 10-minute walks twice a day  (until week 6). At week 4 Bill restarted hydrotherapy on the underwater treadmill, to allow him to load the leg better (with the buoyancy of the water), build muscle and exercise in a controlled manner. He did this weekly alongside his home physio programme.
At week 6 Duncan reassessed him. This revealed that his gait and comfort on manipulation of the right elbow were much improved compared to before surgery. As a result of his good progress Bill was allowed to increase his exercise levels by 5 minutes per week until he reached 30-minute walks twice a day and could start short bouts of off-lead exercise. Needless to say Bill was chuffed to be getting back to normal exercise levels with his new joint!
Dogs typically take 6 months to return to full function following CUE surgery, and tend to have much better exercise tolerance and pain levels.  Bill is now 5 months post-op, and despite having a low-grade mechanical lameness, he is much happier and is back to hour-long off-lead walks daily.  I have no regrets about doing the surgery, I knew I could trust Duncan to do a great job and coupled with physiotherapy this has been a great success!